Quick Contact Request
Please fill in information below and we will be in touch shortly.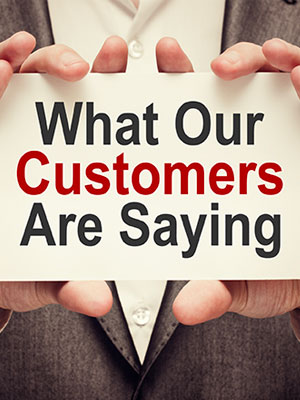 There is no more significant witness to the commitment and performance excellence a QMS partnership provides than the voices of our current customers. The following testimonials offer personal experiences of many customers where we not only accomplished expectations but in many cases exceeded anticipated performance.
Some new customers may have previously struggled with less than valuable EMS provider historical developments but after experiencing QMS performance excellence, they recognize and appreciate the proof of how a true EMS business partnership should exist.
Manufacturer of control systems for shows and high performance rides
"We recently received the delivery of product from QMS. We've had this product built by now four different companies during its lifespan. Because of past experiences with the other companies, I had resigned myself to accepting a loss rate of 10%-20% from manufacturing defects. I would like to happily extend a gigantic thank you to you and your associates on these assemblies. The preliminary tests on all units completed with a 0% failure rate, a true testament to your dedication to quality manufacturing. …I would like to congratulate you on this momentous step with us, and can guarantee, as far as I'm concerned, that my orders will be coming from you from now on…."
Electrical test equipment manufacturer
"Overall we are very satisfied with QMS quality and delivery. The account team is very easy to work with and makes you feel you are very important and takes care of any issues or questions in a very timely manner."
Defense contractor
"I find it hard to give a score of 5 for anybody, but QMS did a great job supporting us despite the issues we cause ourselves… I appreciate the dedication by QMS to partnering with customers to meet the customers goals."
Building security systems manufacturer
"It's a pleasure doing business with QMS and we will continue to do so. The majority of our assemblies are still through-hole which is very labor intensive and tedious at times which makes the potential for errors high…All QMS employees we deal with are always responsive to our issues."
Industrial wireless communications device manufacturer
"We frequently recommend QMS as a CM. Our products are always delivered on time and in great condition. Every question is responded to immediately and help is always there when we need it. Our quotes are turned around promptly and pricing is always competitive and well explained. Having a CM that is as effective as QMS makes our business flow smoothly and effortlessly. We thank you for all of your hard work."
Rail industry electronics manufacturer
"… Outstanding effort by QMS, thank you again for your time and flexibility to accommodate us…I can't express how much I appreciate that, and what your team is doing to assist us right now. Please express our appreciation to your whole team for their efforts. Thanks again"