Quick Contact Request
Please fill in information below and we will be in touch shortly.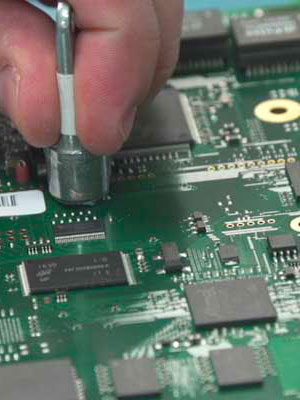 You are driven to exceed customer expectations, and that is only possible as your suppliers exceed your expectations.
Printed Circuit Board Assembly (PCBA) or PCB Assembly, that was once a simple process of inserting leaded electronic components into a circuit board, soldering, and producing a reliable printed circuit card assembly has developed into a sophisticated, specialized science requiring only the most technically advanced professionals, the latest manufacturing technology, clearest possible communication, and a culture of commitment excellence.
PCB Assembly Services
Quality Manufacturing Services, Inc. printed circuit board assembly performance meets and exceeds whatever scope or degree of technical complexity your industry may demand.  Our expertise ranges from minimal layer PCBAs with basic thru-hole component population to twenty-five layer, hidden and stacked via, impedance controlled assemblies with the latest packages in LGA, micro BGA, PQFN, and 01005 size ceramics.  The QMS model has developed over years of practical experience maintaining enough organic approach to offer responsive flexibility to our customer's dynamic printed circuit assembly requirements yet still enforcing a mechanistic, process-ownership assembly approach yielding the highest possible industry quality output.
Our professional team partners with your design and development from product inception.  Design for Manufacturability (DFM) and a New Product Introduction (NPI) review are both free services QMS provides to streamline assembly and eliminate process challenges before delivery impact.  Waste, inefficiency, and unnecessary cost burdens are eliminated to ensure optimal value during continuously intensifying time to market pressures and cost competition.  Multiple Mydata and Panasonic SMT pick and place machines, multi-dimensional X-Ray, Electrovert Closed Loop DI wash systems, Pillarhouse selective solderers, and Yestech AOIs are just some of the advanced manufacturing systems, paired with dedicated, third-party industry accredited operating technicians, enabling our unparalleled execution.
Regardless of your industry demands or scale whether defense, commercial, or industrial, a QMS partnership enables our customers to most effectively concentrate resources and achieve the highest possible value return.  Customers have enough marketplace challenges without the additional and costly burdens of program management, supply chain continuity, or insufficient quality that can compromise even the best designs.  Don't allow your reputation to settle for anything less than the very best that Quality Manufacturing Services achieves for your printed circuit assembly demands.