Quick Contact Request
Please fill in information below and we will be in touch shortly.
Volume PCB & Electronics Manufacturing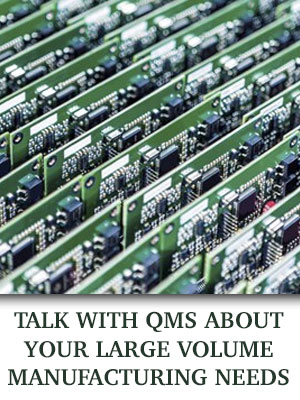 QMS offers a wide range of PCB and electronics manufacturing capabilities in terms of production volumes. The Lake Mary facility is staffed with professionals experienced in handling prototype requirements and early production trial runs, as well as medium and large volume production requirements.
Capital equipment selections at QMS offer outstanding capabilities and reliability, able to handle leading edge component technologies with both precision and speed. The Engineering team optimizes each platform for maximum efficiency and capacity, and of course, outstanding quality.
Should your business require large volume manufacturing support, QMS can offer dedicated work cells and resources to ensure continuity across your supply chain. QMS is experienced in managing dedicated resources able to handle your custom products, including material requirements, assembly, test, and transport logistics.
You will appreciate the flexibility and focus of the QMS team to deliver to your expectations, whether managing a surge in requirements or supporting a long-term contract. Contact us today to discuss your volume manufacturing plans.